Truckers love good food almost as much as the rhythm of the road beneath their wheels.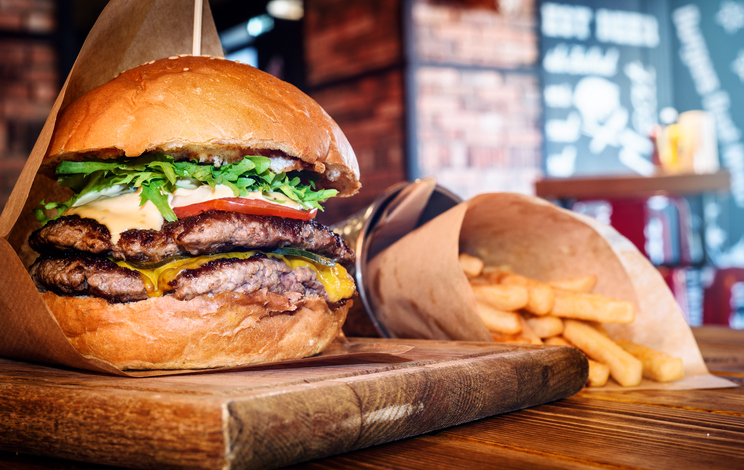 Good cooking can be difficult to find on the road unless you know where to look. The eateries below range from home-cooked meals to fine dining and sophisticated wine menus, but they each have a unique atmosphere that adds to the
adventure. Stop by one of these incredible places on your next long-haul trip.
Fun and Funky Roadside Diners
These roadside diners put the fun in funky. Vibrant, playful, and with plenty of good food, their offbeat vibe will have you taking plenty of pictures for the folks back home.
The directions to this family-owned diner add just as much flavor to your experience as the cast iron skillets they use to fry their homemade chicken. Just head up I-44 along old Route 66 and look for the giant chicken perched on top of a red El Camino. For those looking for more traditional directions, the restaurant is just off exit 179.
In addition to fried chicken and from-scratch pies, the eatery also offers generous portions of pork tenderloin, steak, loaded baked potatoes, and breakfast items. If you are feeling really hungry, you can attempt their 'King of the Road' challenge: Consume a 66-pound burger with all the fixings and 1.5 pounds of fresh-cut fries within 66 minutes. If you can keep the meal down, you earn the King of the Road title and get your challenge fee refunded.
Space Aliens Grill and Bar – Fargo, North Dakota
Take a break from the grey monotony of the road and feast your eyes on a carnival of color. This quirky bar and grill features space-themed entrées and a 30-foot domed ceiling with an out-of-this-world view. You can also take a picture with one of the life-sized alien figures in the dining room.
If the lively aura does not bring you back, their Applewood and hickory-smoked ribs will. The melt-in-your-mouth delicacy has won top billing at the National Bar-B-Que cook-off in Memphis, Tennessee. If ribs are not your thing, the diner still has you covered. Fire-roasted pizza, whiskey bourbon chicken, and stuffed baked potatoes also rank high among fan favorites.
Taste the Finer Things in Life
These restaurants still have a down-to-earth feel but offer more sophisticated fare. Whether you want to elevate your palate above the standard burger and fries or are a team-driving couple looking for a fun date night, the following eateries fit the bill.
Mars Cheese Castle – Kenosha, Wisconsin
This restaurant has "castle" in the name for a reason – it boasts turrets and a drawbridge. The regal fare includes a wide array of cheeses and cured meats, as well as a selection of fine wines and craft beers. Baked goods are created fresh daily in the on-site bakery, and include Kolacky, a fruit pastry, and Danish Kringles.
Visitors also get a taste of greatness. Since the Castle's inception in 1947, John F. Kennedy, Johnny Cash, and Joe Biden have all stepped through its doors.
Casa de Fruta – Hollister, California
Established in 1908, this century-old fruit stand has grown into a major attraction. The grounds boast an RV park, 24-hour restaurant, and a hand-made Italian carousel. Book a room for the night in the nearby hotel before indulging in their complimentary fruit wine tasting. You can also sample candies and nuts, then visit the gift shop to take your favorites on the road. The gourmet garlic, jellies, and jams that round out their selection will have you anticipating your next trip through central California.
Southern Soul Food for Truckers
If you head south of the Mason-Dixon line, there are a couple of places you should try. Whether you head for Georgia's home-cooked comfort food or sizzling steak in the Texas panhandle, you will still come out a winner.
Gladys Knight & Ron Winans' Chicken and Waffles – Lithonia, Georgia
You may wonder what soulful music and great food have in common. In this restaurant, the answer is the owners. Knight is known as the Empress of Soul, while Winans hails from a family that has strong roots in Gospel music. That same heart and rhythm infuse their menu. Top off a meal of smoked turkey, collard greens, and fried green tomatoes with a slice of Georgia peach pie, and your mouth will be singing right along with them. The restaurant does not stay open 24 hours, but it does cater to the mid-morning to late evening crowd.
The Big Texan Steak Ranch – Amarillo, Texas
They say everything is bigger in Texas. That sentiment extends to the 72-ounce steak the Ranch offers, which is free if you can manage to eat it in under an hour. Nearby Hereford is the world's beef capital, so you can be sure your steak is some of the best you will ever eat.
The Ranch boasts a craft brewery. House beers are served, Texas style, in tall plastic cowboy boot mugs. The steakhouse also carries a local fried delicacy – mountain oysters. A by-product of the cattle industry, they are also called calf fries in other parts of the country.
Roadside Restaurants with a Claim to Fame
Speaking of biggest, these last two restaurants both set world records. The first is in South Carolina. The second, in the heart of the Midwest, has trucker written all over it. Check out one of these locations on your next trip.
South of the Border – Hamer, South Carolina
This unusual diner has a little something for everyone, including a diner, steakhouse, Mexican restaurant, as well as a tamale and a hot-dog stand. Enjoy some time off at the nearby Pedroland amusement park, or take a ride on a sombrero-shaped glass elevator.
Those brave and curious enough can also tour the facility's reptile lagoon, which is the largest indoor reptile exhibit in the country. However, you may want to pass on this feature if you dislike snakes, frogs, and alligators.
Iowa 80 Truck Stop – Walcott, Iowa
It should come as no surprise that the world's largest truck stop has a 300-seat, 24-hour restaurant. Order from the 50-foot long buffet and salad bar, or try a club sandwich or generous portion of fried chicken.
There are plenty of amenities as well. Truckers can visit the movie theater, do laundry, take showers, play games, or get a haircut onsite. The truck stop also has a museum dedicated to the trucking industry. If you are passing through in mid-July, you can attend the Trucker's Jamboree to connect with other drivers.
From North to South and coast to coast, truckers keep the nation's economy flowing. Life on the road stays busy, but it is also important to take a break to recharge for the miles ahead. Which restaurant will you try first on your next trip?
Check out this article to plan your place to rest for the night.