Whether you have had years of experience as a flatbed owner-operator or just now starting out as a long-haul flatbed driver, Landstar offers the best perks for owner-operators. With Landstar, you are your own boss, make your own hours, choose your own loads, and decide when you want to go home.
Why Drive for Secrest Direct?
100% Nonforced Dispatch

Landstar is a 100% nonforced dispatch trucking company. With the opportunity to choose your own loads, you are your own boss. You can choose to be home every night or every weekend. Never miss out on an important family gathering again!

Competitive Pay

Landstar owner-operators always receive the best rates. When Landstar's rates increase, so do your rates. You are in control of choosing your own loads, so why not control your highest potential earnings?

Steady Freight

Landstar offers access for all owner-operators to the Landstar Load Board. Gain access to over a thousand available loads. Pick and choose your own load based on your unique specifications, including destination, origin, the rate per mile, trailer type, etc.

No Experience? No Problem!

Are you interested in becoming a flatbed owner-operator with Landstar, but have no experience? No worries! Landstar offers owner-operators a two-day securement training course free of charge. With a free training course, Landstar also pays for the driver's food and lodging while in training.
Once you have completed your training course and have successfully hauled freight, you can advance to larger shipments, including 10-foot-wide over-dimensional loads and multi-axle and specialized freight.
Landstar Flatbed Perks
As a flatbed driver Landstar offers multiple perks for their
owner-operators. These perks include:
Company Flatbed – 73% of line haul
with a weekly trailer rental fee

100% tarp fees are paid to
owner-operators

Owned Flatbed – 73% of line haul

100% fuel surcharge is paid to
owner-operators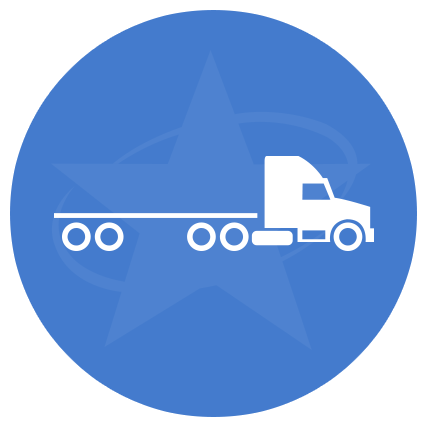 Landstar Contractors' Advantage Purchasing Program
The Landstar Contractors' Advantage Purchasing Program (LCAPP) gives owner-operators savings and discounts beginning the day you lease with Landstar. The LCAPP offers discounts on the following:
Accessories including Cabguards, Toolboxes,
and Load Securement accessories
Computer hardware and software
Equipment financing
Extended engine warranty
Fuel discounts at over 1,000 locations
Intelligent Transportation Systems
including PrePass
Long-distance and in-cab telecommunications
New and used trucks and trailers
Parts and services
Tires discounts
The main reason I chose Landstar is the freedom, flexibility and stability. With over 10k owner operators, that speaks volumes,. They are an all around great company, I have no regrets.
Dave Smitty, Landstar Fleet Owner
Are you ready to being your trucking career with Landstar? Contact a Landstar Recruiter today and start your new career on the right path!