Benefits of Landstar Heavy Haul Load Board
Access to Loads
Ability to pick and choose your own load and where you want to take it.
With Landstar, owner-operators are 100% non-forced dispatch, and the Load Board helps drivers keep their freedom.
Choose your load based on the origin, destination, rate, trailer type, and more!
Load Alerts
With the Landstar Load Board, you can set Load Alerts based on your search criteria.
While resting, eating lunch, or doing your pre-trip inspection, Load Alerts is working behind the scenes of searching through thousands of loads for you.
Once a load is found that meets your search criteria, receive a notification, and book your own load!
Let Load Alerts find and secure loads for you!
Mobile App
Landstar Available Loads is available right at your fingertips.
Having quick access to the Landstar Load Board keeps you loaded and one the road.
Loads found on the mobile app are the same as those on LandstarOnline.com.
Heavy Haul Load Board Demonstration
Want to see firsthand how Landstar Freight Load Board and Load Alerts work?
Landstar offers daily demonstrations of the Landstar Freight Load Board.
Setting Up the Load Board
Once you have downloaded the Landstar Load Board, setting up your load board is easy to
navigate. We must note that the Landstar Load Board is only available for Landstar owner-operators.
Log in with your LandstarOnline username and password.
Next, you can set up your Load Alert criteria that best fits your needs. Below are some
options Load Alerts has to offer:
Destination
Number of stops
Origin
Radius
Max/Min miles
Rate-per-mile
Truck type
Weight restrictions
Once you have set your criteria, and you receive your results,
additional information will be shown, such as:
Additional payments
Company
Contact numbers
Line haul
Origin and destination limits
Miles
Rate-per-mile
Trailer type
A Look Inside Landstar's Load Board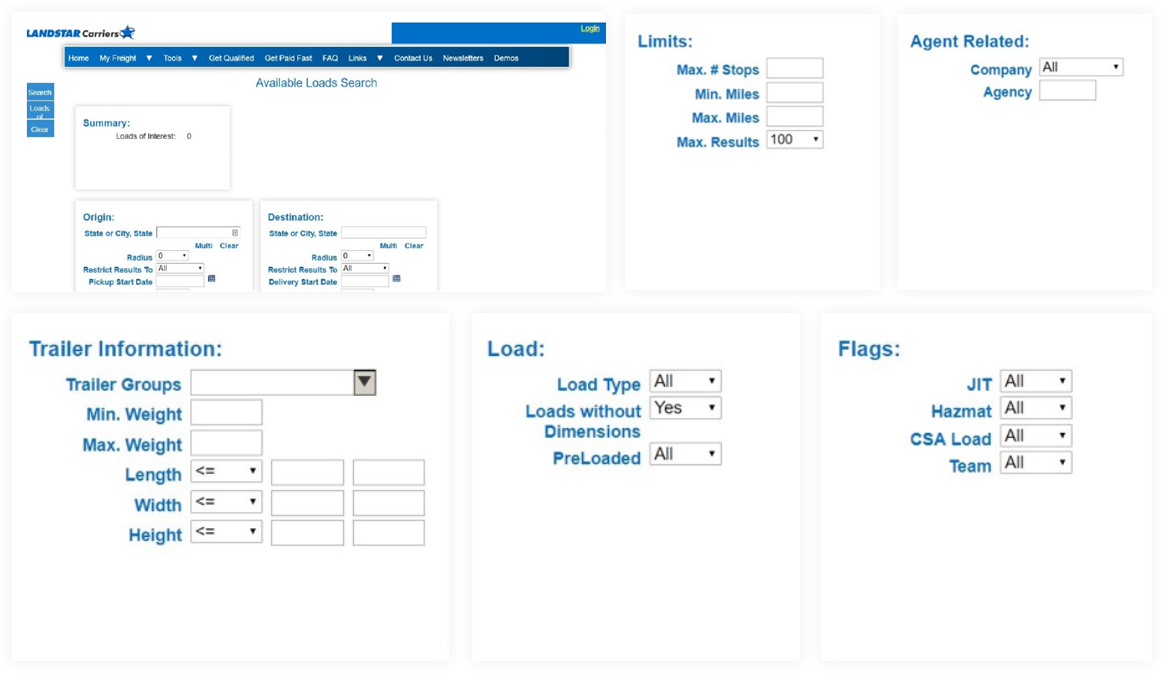 Learn More about Landstar Load Board
Our owner-operators brag about the flexibility and reliability that the Landstar Load Board offers. You can see for yourself. Landstar offers daily demonstrations of the Landstar Load Board.
If you are interested in learning more about the Heavy Haul Load Board and how it works, click here to view a live demonstration. If you are interested in leasing on with Landstar and becoming an owner-operator, call us at 877-441-9128.