Regain your freedom, run your business on your own terms, and receive Landstar's percentage pay. When trucking rates increase, so do your compensation. Whether you have been hauling heavy freight for years, or just starting out, Landstar offers
owner-operators the best heavy haul perks.
Why Lease with Landstar as a Heavy Haul
Owner-Operator?
100% Nonforced Dispatch

Be able to choose your own loads, where you are going and be in control of your trucking business. Have the opportunity to be home every night or every weekend with your loved ones. Landstar is a 100% Non-Forced Dispatch trucking company. Be Your Own Boss!

Competitive Pay

Owner-operators with Landstar receive competitive pay rates. When Landstar's rate goes up, so does your compensation. Since you are in control of your own loads, why not be in control of your potential earnings?

Load Security

Gain load security with 24/7 access to the Landstar Load Board. You receive access to thousands of available loads right at your fingertips. Choose the best load that fits your unique needs,including destination, origin, rate,trailer type, and more!

Owner-Operator Support

Becoming an owner-operator with Landstar, while you are your own boss, you still gain the support from Landstar. Landstar puts its drivers first and provides tools to help your business become successful!

Field Representatives
Classes to improve your bottom line
Online Training
Load Board and Load Alerts
Safety Programs
Landstar Heavy Haul Perks
As a heavy haul owner-operator at Landstar, you receive multiple perks. These heavy haul perks include:
Choosing your own loads and earn
competitive pay rates.

Discounts on Fuel and Tires

Receive 100% Fuel Surcharge

Qualify for heavy haul shipments after 2 years of flatbed or step deck over-sized driving with Landstar.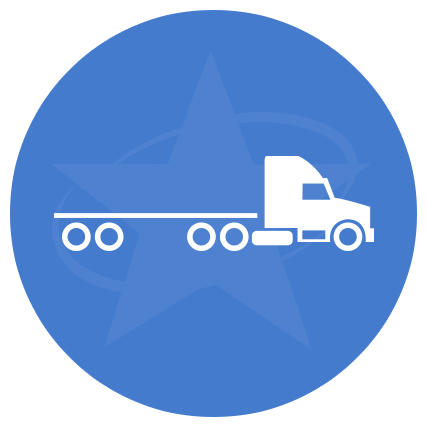 Requirements for Landstar Owner Operators
The following are minimum qualification standards to become an
owner-operator with Landstar.
23 years of age.
Class A CDL with HazMat or Combination Endorsement.
1 year verifiable over-the-road experience within the past 3 years. OR, 3-year verifiable over-the-road experience within the last 10 years. Within those 10 years – 6 months must be within the previous 48 months with a Class A CDL and the equipment in which you will be operating at Landstar.
No more than 3 moving violations within the last 3 years. No more than 1 excessive speeding (15+) in the previous 3 years
No at fault DOT accidents within the previous 12 months.
No DUI or DWI charges in the last 5 years. No Felony convictions in the past 7 years.
No convictions of reckless driving, suspension of driver's licenses over 30 days, no careless driving in the past 3 years.
Speak English sufficiently to interact with the public, understand traffic signs and signals, respond to official inquiries, and be able to make entries on reports or records.
No previous positive tests of drug or alcohol tests done by a previous employer or lease carrier.
The main reason I chose Landstar is the freedom, flexibility and stability. With over 10k owner operators, that speaks volumes,. They are an all around great company, I have no regrets.
Contact a Landstar Recruiter today
and start your new career on the right path!