As of April 1, 2017, the Commercial Vehicle Safety Alliance (CVSA) Out-of-Service (OOS) Criteria for commercial vehicles are in effect. For those who do not know, the CVSA OOS Criteria are the pass or fail criteria for all commercial vehicle inspections in North America.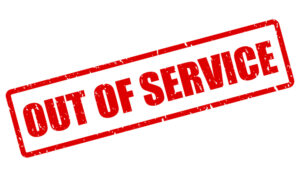 Critical violations that render the driver, vehicle, and/or cargo out of service can be identified using these guidelines, which are reviewed and updated annually. The most recent CVSA out-of-service information is incorporated into the latest edition of the OOS Criteria Handbook, which is available for $35 to CVSA members and $45 to nonmembers.
The following overview highlights this year's updates to the criteria, obtained from the CVSA official outline of approved changes to the "2017 North American Standard Out-of-Service Criteria."
Reducing Out-of-Service Condition Documentation Errors
CVSA OOS Criteria are based on violations that already exist in the Federal Motor Carrier Safety Regulation (FMCSR) code references. To avoid inspectors making a less appropriate or outright incorrect selection while documenting a violation related to an Out-of-Service condition, CVSA voted to remove paragraphs in Part One, Two, and Four that address FMCSR code references.
Requirements for US, Canadian, CDL, and Non-CDL Drivers
Part One, Item Four, of the OOS Criteria for commercial vehicles addresses a driver's medical and physical requirements. Modifications were made to this item to ensure that the enforcement of a non-CDL driver roadside encounter was consistent with the requirements of a CDL driver.
Because the Federal Motor Carrier Safety Administration (FMCSA) and the United States Department of Transportation (USDOT) do not have influence over what happens in Canada, CVSA changed the language in Part One, Item Four. This change was to clarify how to handle certain Canadian licenses that might require additional evidence to prove compliance with US medical requirements.
Electronic Logging Devices
As of December 2017, all CDL drivers and commercial motor carriers (several million on the road in North America) are required to keep a Record of Duty Status (RODS). One method for tracking hours of service is an Electronic Logging Device (ELD). Amendments to Part One, Item Nine, give some guidance on how to enforce hours of service requirements when the electronic logging device requirements go into effect.
Driveline and Driveshaft Conditions
While the bearing cap bolt, bearing assembly cap, and retainer bolts were all part of the original language used in Part Two, Item Four, the retainer bolt was mistakenly omitted. The 2017 CVSA Out-of-Service Criteria includes the term "retainer bolt" as it was originally intended.
In previous editions, there were several photos showing bolts that have been backed off but are unable to turn due to being locked tight and also showing bolts that are loose. In the most current edition, "with hand pressure only" is removed, and "loose" is interpreted the same as it is with U-bolts, wheel fasteners, and fifth wheel fasteners.
Suspensions
CVSA added language addressing missing bolts in suspension systems. After consulting with those in the industry, CVSA now views missing bolts as great of a safety risk as broken welds and cracks.
Leaking Lubricant in Passenger-Carrying Vehicles
Leaks in auxiliary heaters can be related to the fuel supply. Any leak in the fuel system is considered Out of Service in accordance with Part Two, Item Seven, of the OOS Criteria. However, the CVSA has determined a crash due to the breakdown of leaking lubricant could only occur if the leak were in the area of the cables, specifically the main power cable. This situation is highly unlikely since this type of alternator is nearly non-existent in vehicle models year 2000 or later. Thus, the language related to visual leaking lubricant was removed from the 2017 OOS Criteria.
Inactive or No USDOT Number
According to FMCSA data, motor carriers that have an inactive USDOT number and unregistered motor carriers that have been inspected yet have still not registered both have higher out-of-service rates than motor carriers that have active USDOT numbers. As a result, CVSA amended the Out-of-Service Criteria for 2017 to require that motor carriers have an active USDOT number to avoid being placed out of service.
More About the Commercial Vehicle Safety Alliance (CVSA)
Informally began in 1980, CVSA is a nonprofit association comprised of commercial and industry representatives of local, state, provincial, territorial, and federal jurisdictions whose purpose is to achieve the compatibility, uniformity, and reciprocity of commercial motor vehicle inspections by certified inspectors throughout the United States, Canada, and Mexico. Currently, CVSA has nearly 4,000 members across five geographical regions in North America.
CVSA closely monitors the safety of transportation processes and procedures to identify potential risks. The OOS Criteria are one way the CVSA works to increase the safety of North American highways.