Down load the  2019 CVSA Checklist
Get Ready for the 2019 CVSA Roadcheck Inspection
The Commercial Vehicle Safety Alliance (CVSA) is holding their national roadcheck June 4th – 6th, 2019. During the three-day roadcheck, inspectors in North American will inspect commercial vehicles and the drivers. Over the years, the International Roadcheck focused on specific violations. This year, the focus is on suspension and steering systems to remind drivers that these systems are equally important to safety. However, suspension and steering is not the only focus.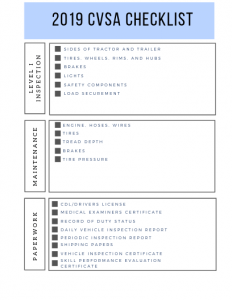 All safety and required documentation will be inspected. Get ready with our handy CVSA checklist.
CVSA Checklist
Before hitting the road, ensuring you have done a proper pre-trip inspection can help you avoid any violations and downtime on the road. The CVSA has provided a simple checklist for you to go over before hauling your next load.
Brake systems
Cargo securement
Coupling devices
Driveline/driveshaft
Driver's seat securement
Exhaust systems
Frames
Fuel systems
Lighting devices including headlamps, tail lamps, stop lamps, turn signals and lamps/flags
Steering mechanisms
Suspensions
Tires
Van and open-top trailer bodies
Wheels
Rims and hubs
Windshield wipers
Driver's license
Medical Examiner's Certificate
Skill Performance Evaluation Certificate
Driver's record of duty status
Vehicle inspection report
Along with the above-mentioned, inspectors will also be checking on the driver's overall health, including any illnesses, fatigue, and drug or alcohol use.
Fail/Pass Inspections
After the Level I or Level V Inspection is complete, and no significant violations are found, the inspector will place a CVSA decal on the commercial vehicle. By receiving this deal, this shows that your truck has successfully passed the inspection.
In the case a violation is found, the inspector will place your truck "out-of-service." When receiving an "out-of-service" order, the vehicle cannot be used until all violations have been addressed and repaired. Receiving an "out-of-service" is not just for violations to the vehicle, but a driver can receive a violation if they appear to be fatigued or under the influence of drugs or alcohol.
New Rules and Regulations during the CVSA Roadcheck
Over the past year, new rules and regulations regarding Hours of Service and ELD were put in place. It is crucial that all drivers and the trucking industries comply with these rules and regulations. Every driver needs to be within their recommended HOS as well as having the appropriate ELD in place before hitting the road.
While the ELD should record HOS automatically, as a driver, you should be aware of these rules and regulations. Drivers should be mindful if any specific HOS regulations apply to them individually, or if they have any exemptions. During the 2018 Roadcheck, 43.7% of violations were because of HOS violations.
To ensure you do not receive an ELD violation, make sure the device in your truck is working correctly. In case your ELD is not working correctly, be sure to report the malfunctioned device. Also, if you have a malfunctioned ELD, have a copy of the device's user manual located in your truck along with the instruction sheet and your 'records of duty' papers.
Be safe out on the road, and we wish you a violation free week!