As stated by the American Truckers Association the average age of a truck driver today is 49, and many will soon be retiring.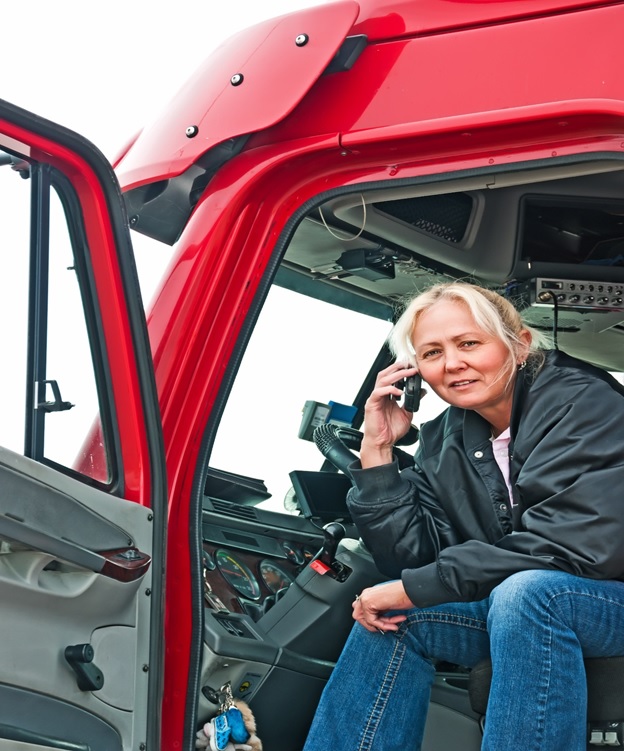 This shared with the lack of qualified drivers and trade resignation rate has some predictions showing the trucking industry in demand for 100,000 qualified drivers heading into 2018. Although it is estimated there are 3.5 million truckers on the road today, a meager 38.75 happen to be minorities and only 6% of those are women. It also merits mentioning an immense opportunity for women in the trucking industry.
Meet the First Female Trucker
Lillie Elizabeth McGee Drennan lived from 1897-1974. She is regularly attributed as being the first licensed female truck driver in the United States. Lillie was born in Galveston, Texas and was offered up for adoption shortly after that at three weeks of age. She married at the age of 15 and gave birth to her only son, W.B. Drennan Jackson, in 1913.
Lillie married and divorced three times in her life, and it was during her second marriage she was introduced to the trucking industry. Having a hearing impairment that endangered her being permitted a license, Lillie alleged "sex bias" as the cause of rejection rather than her hearing ability becoming a safety risk. Successfully she argued her case and was issued her commercial license in 1929. After divorcing her third husband, she remained the sole owner of Drennan Truck Line. According to Team Run Smart, "when Lillie drove her first open cab Model T Ford, the job was physically demanding. In addition to general freight, she hauled oilfield equipment and explosives, sometimes for 48 hours at a stretch. Today's cabs are more comfortable and ergonomic, and the driver doesn't always handle the freight. No one drives for 48 hours at a time these days and carriers are looking at the driver more as a partner than a means for capacity."
In the U.S. today there are well over 200,000 female truckers out of about 8 million Commercial Driver's License (CDL) holders. In 2000, only 4.7% females were a part of the trucking industry, that number has increased over 50% since 2005.
Facts About Women Truckers
Women make up 47% of the working class.
6% of those women are truck drivers.
Only 40% of women are involved in vehicle crashes, leaving the remaining 60% involving men.
Wyoming has the highest percentage of women interested in trucking (16.88%); whereas Massachusetts has the lowest (6.95%).
In 1929 Lillie Drennan was the first woman CDL driver.
In 1944 Rusty Row was the first woman to drive whole Alaskan highway totaling 1560 miles.
In 1959 Marlene Marling begin a trucking career of 5 million accident-free. This record lasted 35 years.
Challenges Women Face in the Trucking Industry
Harassment – Women face many challenges in the trucking industry, and not just because of their gender. Women face challenges with training situations because trainers are commonly male. Female drivers are then matched with a male for a few weeks at a time. Since there is a low rate of female drivers, there are not many female trainers. Some female drivers have been subject to harassment by their trainers.
Equipment – Another challenge some female truck drivers face is with operating the larger equipment. Big rigs were, by tradition intended for male drivers. However, manufacturers are exploring more options to acclimate shorter women and even men.
Hours spent on the road – Being on the road for long periods of time can often cause issues for women who have children to take care of and raise. However, to recruit more women into the trucking industry, trucking companies must offer the same benefits male drivers receive. These benefits include better home time, more money, safer equipment, and flexible schedules.
Recruiting Women to the Trucking Industry
The trucking industry needs to show women they are just as wanted and valued as a professional driver as men are. The priority is recruiting more women to the trucking industry, then giving them the confidence they need to know they can do their job not based on their gender.
Women need to feel safe in their career choice. When carriers take the initiative to make all drivers feel safe, more people will want to join the trucking industry. Ways to increase the feeling of safety are:
Make truck stops and rest areas safer with better lighting, fenced parking, and maybe a guard dog.
Encourage drivers to carry wasp spray or an equalizer; permit them to carry a gun for protection.
Enforce carrier policy on workplace harassment to end verbal abuse.
Why Women Choose A Career in Trucking
Open Road – Many women love the idea of driving down an open road, and the trucking industry allows them to do so. Every day is a different view, and they can experience new things and explore new opportunities.
Flexible Schedules – In the trucking industry many schedules are flexible. If women are not married or do not have kids, their schedules can be more flexible.
Reasonable Salaries & Job Opportunities – Within the United States, there is a demand for truck drivers. Many trucking companies are beginning to offer improved job opportunities and benefits for female truck drivers and veterans. Women have the talents and experience necessary to fill those empty positions and be able to still perform their job just like men. Depending on the experience truckers can earn anywhere from $25,000 – $70,000 and more annually. Women now can even make up to 20-30% more in the trucking industry than they can in other careers.
Freedom – Not many career choices offer the freedom that being a truck driver does. Drivers who choose this as a career path have ample time to have peace with themselves and reflect on their life while enjoying the countryside views and the open road. Many drivers who choose trucking as a profession do not just think of it as a job; since they love what they do, they think of it more as a lifestyle. For many of them, being in their truck, and traveling the road is the exact definition of freedom.