In May of this year, Uber launched a new freight brokerage trucking app and service. Uber Freight was created shortly after internal personnel integrated with Uber's latest acquisition, Otto.
The Uber Freight app matches vetted truck drivers with long-haul routes. Drivers or dispatchers book and confirm routes with the tap of a button. The app also has a "Take Me Home" feature that helps over-the-road (OTR) drivers book loads that will take them back home while still earning income.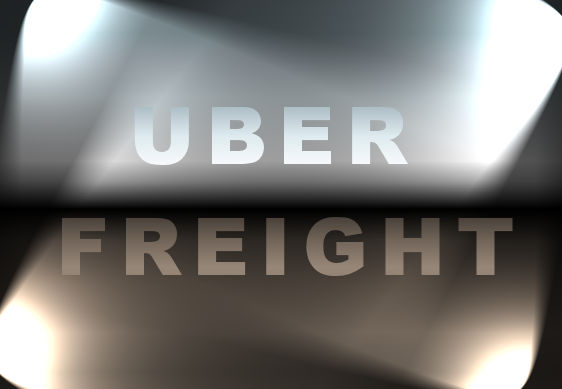 The app is designed to work for carriers of any size, but it is particularly attractive to small fleets and independent owner-operators. Although the company has had its fair share of controversy in recent months, the way it is handling freight brokerage could transform the industry.
Uber Freight Offers Truckers Significant Advantages
Uber Freight bases its business model on solving some of the biggest complaints drivers have about brokerage. The service streamlines the booking process. Instead of making multiple calls to schedule a load, drivers or dispatchers simply tap a button. Confirmation follows within seconds, including verification of the load and the shipment rates.
Dispatchers and owner-operators can filter load searches by pickup, destination, the offered price, and other factors. Currently, the service only schedules dry van or refrigerated truckloads, but the company has plans to expand their offerings. If the user has questions at any point, the app has a phone number listed on every page. Calling the number connects app users with experts who have real-world brokerage experience.
Prompt Payment
Another major complaint small trucking operations have is the amount of time between delivery and receiving payment. With 30-60-day terms standard in the trucking industry, delayed pay can make or break a small trucking business when repairs or other issues arise. Uber Freight issues payment with seven days of delivery, regardless of receiver terms. However, users should be aware that it can take a few more days before the money appears in their bank account.
Paid Delays
Uber Freight also offers accessorial rates for shipping delays. The company pays detention fees of $75 per hour, starting two hours after the appointment time and capped at four hours of pay. They also pay a layover rate of $300 per day. Driver assists for loading or unloading receive a fee of $75 per load.
Uber Freight also offers a Truck Order Not Used fee of $200 plus $2 per miles. Payment for deadhead mileage is capped at 125 miles.
To meet requirements for receiving accessorial fees, drivers must be using the app. The app's GPS tracking data provides the company with proof of arrival and travel time.
Willing to Listen
According to Uber Freight's blog at medium.com, they are also willing to work with drivers experiencing extraordinary circumstances that do not quite fit into their accessorial rate categories. The company requests an email in those situations.
Uber Freight is also responsive to driver feedback. The company requires new employees to ride along with drivers to better understand how to improve the app. The app's "Take Me Home" feature was created after a driver participating in a ride-along requested a way to find loads that would shorten his trip home.
Uber Controversy Could Affect Functionality
Still, drivers and smaller fleets are well-advised to avoid putting all their eggs in one basket. Uber's company culture has been roundly condemned in recent years, with critics calling it frat-like and sexist. Related allegations led to the dismissal of several top executives, including Travis Kalanick, the company's founder.
Legal Battles Between Otto and Google-affiliated Alphabet
The company is also in the middle of a legal battle between Otto, its self-driving truck subsidiary, and Weymo, which is connected to Google's parent company, Alphabet. Weymo is also researching self-driving vehicles, although they focus on four-wheelers.
The pending lawsuit, which is scheduled for trial, alleges that Otto founder Anthony Levandowski stole over 14,000 files from Alphabet prior to launching Otto. Levandowski was part of Alphabet's self-driving division but left the company in January 2016 to create Otto. Uber acquired Otto several months later.
Uber Freight Product Lead Denies Significant Impact
Eric Berdinis, Senior Product Manager for Uber Freight, believes these issues will have minimal impact on the service. In an August interview with The Atlantic, Berdinis said that the search for a new Chief Executive Officer and Chief Operating Officer have not had "a huge impact" on Uber Freight. "We've always had really strong leadership internally…," he said, "…It hasn't affected shippers. It hasn't affected truck drivers."
The product lead also says the Otto lawsuit has not created problems with Uber Freight either. "…[There] are no self-driving components to Uber Freight," Berdenis stated, "…it's not like our technologies have anything to do with self-driving."
Becoming an Uber Freight Driver or Shipper
If you want to sign up to become an Uber Freight driver, you must meet a few requirements first. Approved carriers must have a Motor Carrier Number, insurance, and a safety rating of at least satisfactory. For now, the company only accepts 53-foot reefer trucks or dry vans. However, they have plans to include other types of rigs.
Shippers must contact the company directly to contract with Uber. Shipping clients can book deliveries several weeks in advance or take advantage of same-day shipping.
Regardless of the issues surrounding its parent company, Uber Freight is a breath of fresh air in the trucking industry. Hopefully, their innovations and solutions will prompt other brokers in the market to follow suit. Having a broker that is willing to work with and listen to truckers is a welcome change to business as usual.