One group of California truckers recently took to the highways in protest of the Electronic Logging Device (ELD) mandate. On October 6th, over 300 drivers met at Yuba City's Sikh Temple. The official route began at City Hall, then continued south of town, down Highway 99 and Interstate 5 in Sacramento before ending in Fresno. Unfortunately, the resulting traffic delays did not do the protesters any favors. The California Truckers Association disavowed the group, stating that although they supported the driver's right to protest, "creating dangerous driving conditions" was not the way to do it.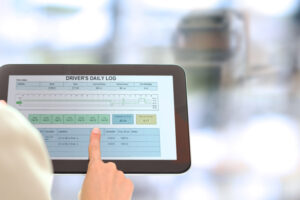 The group also drew attention from the California Highway Patrol, who also took issue with the way they conducted the protest. Although the law enforcement agency also affirmed the drivers' First Amendment rights, they expressed concerns that the slow-rolling trucks would impede traffic and prevent emergency vehicles from traveling freely, noting that they would take "appropriate enforcement action when necessary."
No More Delays
The rolling protest may also be a case of too little, too late. It is no secret trucking companies have not welcomed the Electronic Logging Device mandate with open arms. Each logging device is synchronized with the truck's engine. This means it automatically monitors engine status and hours, miles driven, and whether the vehicle is in motion. Units also report GPS location along with other data.
This detailed information reporting raised concerns about truck driver privacy and harassment. The Owner-Operator Independent Driver's Association (OOIDA) made several legal attempts to halt the rule's progress, going all the way to the Supreme Court. Ultimately, the court ruled in favor of the mandate.
Congressional amendment bills that would have slowed down the legislation were also overturned. Like it or not, the ELD mandate is coming. With the December 17th deadline less than two months away, it is imperative to know these things about the mandate.
Your ELD Must Be Both Certified and Registered
The Federal Motor Carrier Safety Administration maintains a list of certified devices. However, it is possible for a device to be certified but not registered. Ensure the ELD model you select for your truck or fleet meets both requirements. You can find registered devices at the FMCSA Official Website
Certification and Registration Do Not Guarantee Compliance
The devices on FMCSA's certification list are self-certified. This means the manufacturer can create and run tests on each model they produce, then pass or fail the device based on their results. The main problem is that these company-designed tests may not comply with FMCSA testing standards, but they still appear on the list.
Annette Sandberg, the former head of FMCSA, spoke about ELD certification at the 2017 FTR Transportation Conference. She related a story about a popular company that sold devices to a fleet of over 3,000 trucks. The model was listed as certified on the regulatory agency's list but did not even meet the barest compliance standards for automatic onboard recording devices (AOBRDs).
The agency takes a similar approach to registration. Companies must provide a picture of the model, serial numbers, an owner's manual, and other specifics to prove that a device is an ELD. However, once the required proof is uploaded, the device appears on the registration list without further vetting. A device can appear on the registration list one day and be removed from it the next for non-compliance.
Know What You Are Buying
FMCSA is taking a "buyer beware" stance on both registration and compliance. Ultimately, the responsibility for determining ELD compliance rests with carriers. Without agency vetting, some ELD manufacturers are hiring third-party labs to perform testing. Although this is still not a guarantee of compliance, it is a step of good faith.
It is worth noting that although the FMCSA's registration and compliance lists are not a guarantee of device compliance, it is still a good place to start. Any uncertified or unregistered devices are considered non-compliant, regardless of how they operate. Make sure to check each model you are considering against the agency's requirements before making a purchase.
Avoid overspending
It is also important to be aware of each model's features. For example, some ELDs also track and report fuel data. For larger fleets, importing this data for each truck is a huge time saver and is well worth an additional expense. On the other hand, owner-operators or small fleets may opt to save some cash and continue entering the data by hand.
Take a Look at Technical Specifications
Most ELDs integrate with driver mobile devices to display data. Most models currently on the market perform this task via cellular networks. However, in areas where cell phone reception is spotty or nonexistent, this could cause noncompliance issues. Systems that use Bluetooth or USB ports to connect to mobile devices are more reliable under these circumstances. Fleets who have several rural routes should carefully consider their options.
Drivers Will See Some Benefits From ELDs
One good thing that came out of all the legal challenges to the ELD mandate is that drivers now have more control regarding log edits. Drivers cannot change logged hours, but they can make a notation to explain entries. The home office can send edits as well, but the driver can accept or reject each edit. Since the responsibility for hours of service compliance ultimately rests with drivers, this is a welcome change.
Another advantage is that drivers have solid proof of any delays they experience at shipping docks. The ELDs record every time the rig moves and register both time and GPS coordinates. Since there is no way to manually adjust the logs, drivers cannot make up the lost time. This could result in shippers taking a closer look at their loading and unloading procedures to reduce wait times and improve delivery speed.
Using an ELD also rids of paper logs. This can save a driver time from having to log each stop and can also allow the driver more time on the road.
The Devil is Still in the Details
Because ELDs record every movement, companies must account for every unassigned move. If a technician needs to road test the rig or drive it across the yard to a fuel dock, the recorded drive time must be assigned to a driver.
Companies should review and assign 2 – 4 categories for exempt drivers. If the drive time is not assigned to an exempt driver, the device will ask the regular driver if the time belongs to them the next time they log in. When the primary driver rejects the hours, the carrier is responsible for reconciling them. Failure to do so could result in a Department of Transportation compliance audit.
Procrastination Could Cost You More in the Long Run
Some carriers are waiting as long as possible to implement the ELDs. Although this is understandable, it is not the best practice. If a device is found non-compliant after the deadline, the carrier only has eight days to replace it to remain compliant. Furthermore, training devices and discovering how the mandate will affect productivity is an important part of keeping the business running smoothly.
Some carriers hope to take advantage of the grandfather clause that allows trucks with AOBRDs an additional two years before switching to ELDs. However, that only works until you expand your fleet. Although you can continue using an AOBRD in a rig bought as a replacement for an AOBRD-equipped truck, you must purchase and use an ELD for any new additions to the yard.
The bottom line is that compliance ultimately rests with drivers and carriers, the same as it always has. Make sure you are aware of your fleet's needs before you make a purchase. Give yourself enough time to train drivers and ensure your device complies before the deadline.