Owner-operators and company drivers spend much time on the road each year. Most of the time, it is just the driver and the open road. Drivers cannot have their family or friends with them like many of us take advantage of every day, So, in return, drivers turn to the radio as a form of companionship and entertainment to help with boredom while driving.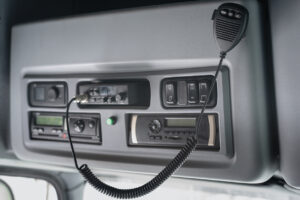 Every driver is different, so their listening choices will also be different. Some people are under the assumption that truck drivers listen to only country music – however, that is not always the case. Drivers listen to various genres while on the road, including classic rock, alternative, rap, heavy metal, or more relaxing music such as jazz or soft rock. A driver's listening choices sometimes depend on their mood or driving conditions.
When trying to find something to listen to, drivers use many different music formats, such as Sirius XM, AM/FM radio stations, or music apps like Pandora or YouTube. Drivers may also use other forms, such as podcasts or audiobooks, to help pass the time.
However, everyone has their favorite truck-driving songs when it comes to a playlist. These include:
Convoy – C.W. McCall
Truckin' – The Grateful Dead
East Bound and Down – Jerry Reed
On the Road Again – Willie Nelson
Roadhouse Blues – The Doors
Phantom 309 – Red Sovine
I've Been Everywhere – Johnny Cash
Going to California – Led Zeppelin
Born to be Wild – Steppenwolf
Brothers of the Highway – Tony Justice and Aaron Tippin
There are many great songs, and there is no way to list them all. Driving over the road can be a lonely job, so when traveling down the road – what are you listening to?