Vantage Truck Parking is expanding parking for commercial vehicles – one of the newest locations in Detroit, Michigan. Detroit is now the 8th new location for Vantage Truck Parking that has opened within the last 18 months. This now brings a total of 3,000 truck parking spaces in five different states.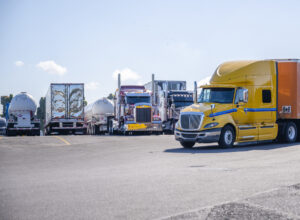 The General Manager of Vantage Truck Parking, Currey Hall, states, "We recognize that finding secure and convenient truck parking is a major need facing professional truck drivers and fleet managers today." Currey goes on to say, "Vantage is building a national network of truck parking facilities to serve this growth need."
Details of Vantage Truck Parking in Detroit, Michigan
Vantage Truck Parking locations are all fenced in,m monitored by security systems, well lit, and have security gates for customer access 24/7. Parking spots are 12-feet wide, 80-foot aisles allow for turnaround room. Drivers can book monthly, weekly, or daily parking spaces through the Vantage website or by calling 855-500-PARK (7275) Monday – Friday 8:00 a.m. – 5:00 p.m.
Detroit, Michigan Vantage Truck Parking Location
If you are in the area and need parking, you can find Vantage parking at:
19865 Telegraph Road
Brownstown, MI 48174
There is a total of 200 parking spaces.
Monthly Fees Include:
Tractor-Trailer Monthly Fee: $150
Bobtail Monthly Fee: $100