The Commercial Vehicle Safety Alliance (CVSA) recently wrapped up the International Roadcheck inspection on May 17 – 19th in the United States, Canada, and Mexico. The International Roadcheck was one of the largest inspections – lasting 72 hours. But this blitz is not the only one truck drivers will be facing. Law enforcement will be watching the highways in the upcoming weeks with two upcoming inspections.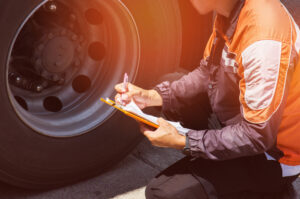 Upcoming Inspections for Drivers
The CVSA will hold two more inspections that you need to be prepared for – Operation Safe Driver Week and Brake Safety Week.
Operation Safe Driver Week – July 10 – July 16th, 2022 – during this time, law enforcement will watch commercial and passenger drivers for risky driving behaviors. Law enforcement will also be watching for speeding violations.
Brake Safety Week – August 21st – 27th, 2022 – during this time, commercial motor vehicle inspectors will inspect the brake systems on large trucks and buses throughout North America to find any brake system violations on the roadways.
Be watching for upcoming information on these two inspections and how to better prepare yourself and your truck so you can stay truckin' down the road.