Every year Commercial Vehicle Safety Alliance (CVSA) holds an International Roadcheck inspection. This year the CVSA International Roadcheck is set for May 4-6. This year law enforcement will focus on commercial vehicle lighting and hours of service. This inspection will be held in Canada, Mexico, and the United States for 72 hours.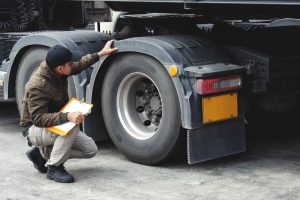 Information on 2021 CVSA International Roadcheck Inspection Focus
CVSA President Sgt. John Samis stated, "CVSA shares the dates of the International Roadcheck in advance to remind motor carrier and drivers of the importance of proactive vehicle maintenance and driver readiness. International Roadcheck also aims to raise awareness of the North American Standard Inspection Program and the essential highway safety rules and regulations in place to keep our roadways safe."
During the inspection, inspectors will focus on the following:
Brake systems
Cargo securement
Coupling devices
Driveline/driveshaft components
Driver's seat
Exhaust systems
Frames
Fuel systems
Lighting devices
Steering mechanisms
Suspensions
Tires
Van and open-top trailer bodies
Wheels
Rims
Hubs
Windshield wipers
Inspectors will also check for the driver's operating credentials such as:
Hours of service documentation
Seat belt usage
Alcohol or drug impairment
If the driver is found to violate any of the above, the driver will be placed out of service until the issues are fixed.
2020 CVSA International Roadcheck Reports
The Federal Motor Carrier Safety Administration (FMCSA) stated that lighting violations ("lamps inoperable") were the number 1 violation in the year 2020. Lighting violations accounted for approximately 12.24% of vehicle violations. Also, during the International Roadcheck 2020, the top out of service violation in North American was hours of service. Hours of service violation accounted for 34.7% of out-of-service conditions.
Samis states, "It's important to remember that International Roadcheck is a data collection effort. The inspections conducted during the three days of International Roadcheck are no different from the inspections conducted any other day of the year. Other than data collection, the inspection process is the same."
The CVSA International Roadcheck Inspection is less than a month away. Now is the time to ensure your truck is operating properly to avoid any out-of-service violations. Check back later for a detailed report on how to inspect your truck before the inspection.