This year, Truck Driver Appreciation Week is September 12th – September 18th, 2021. Being a truck driver takes a special person and personality, considering a truck driver's roles, especially during a pandemic.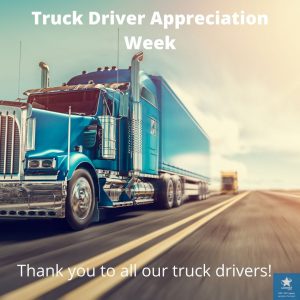 Just about everything we use in our daily lives is made possible because of a truck driver. During National Truck Driver Appreciation Week, it is important to take a step back and think about the sacrifices that each driver makes and respect these individuals for their commitment and hard work.
There are about 3.5 million professional truck drivers in the United States who work hard every day to ensure our goods are delivered on time, safely and help keep our highways safe.
Over the past year, the United States has taken extreme steps to help show its appreciation for the work and dedication that professional drivers take each day during the pandemic. From young children helping pass out lunches to "I Heart Truck" signs posted along America's highways. We wish to show our gratitude and notice the essential role that truck drivers play in our lives.
Please take a moment to thank a truck driver this coming week, put a smile on their face, let them know we stand behind them and appreciate all their hard work.