Shortly after the May 2021 safety blitz, the Federal Motor Carrier Safety Administration published a list of the biggest safety violations found during its most recent three-day Roadcheck safety inspection. While the focus was on hours of service and lighting, it was surprising that the top 2021 roadside violation was hours of service at 41% and brake safety systems.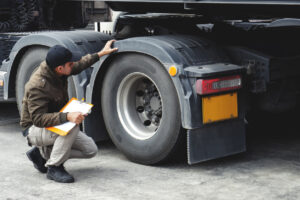 Top Truck Driver Out-of-Service Violation
The May 2021 Roadcheck safety blitz is an ongoing effort to enhance safety on the roadways between the state and local law enforcement agencies and The Federal Motor Carrier Safety Administration across North America and Canada. These safety inspections are part-enforcement, part-information, and part educational events. During the Blitz, inspectors removed 6,710 commercial motor vehicles and 2,080 drivers from the roadways. The top five out-of-service driver violations included:
Hours of Serivce – 1,203 drivers – 41.5%
Wrong Class License – 565 drivers – 19.5%
Suspended License – 132 drivers – 4.6%
False Logs – 427 drivers – 14.7%
*Other – 482 drivers – 16.6%
Top Out-of-Service Vehicle Violations
During the safety inspection, more than 6,700 vehicles and 2,000 were removed out-of-service by the commercial motor vehicle inspectors. Below are the top five out-of-service vehicle violations:
Brake Systems – 2,564 vehicles – 26.5%
Brake Adjustment – 1,203 vehicles – 12.4%
Tires – 1,804 vehicles – 18.6%
Lights – 1,367 vehicles – 14.1%
Cargo Securement – 1,192 vehicles – 12.3%
In the 2021 safety blitz described above, some safety violations were more serious than others, so these violations had different degrees of punishment. For example, a vehicle placed out of service for a safety violation has a larger safety issue than something minor, such as not wearing a seat belt.
How to Prevent Out-of-Service Violations
Road safety is a shared responsibility. Everyone can play a role in making our roads safer by enforcing safety regulations, complying with safety restrictions, and being conscious when on the road.
These safety blitzes often occur, so all drivers must know their rights and responsibilities when on the road. Otherwise, they may get a violation ticket for safety violations that could have been avoided. All safety information should be taken seriously, and safety precautions should always be taken when on the road.
In conclusion, safety blitzes are a reminder for all drivers to review safety regulations to know what is expected of them while driving their commercial vehicles. With these safety blitzes occurring frequently and different types of safety issues being reported as violations, safety precautions should be taken as much as possible to avoid issues and safety risks on the road.