Driving a flatbed truck varies from other lines of trucks. Flatbed owner-operators are in high demand, but loads can be dangerous. While the pay rate for driving a flatbed cannot be ignored, drivers can feel that the risk is worth it. If you are an experienced driver, flatbed driving may be the route for you!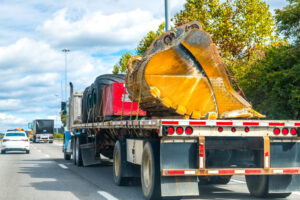 Benefits of Flatbed Trucking
Flatbed driving is common in most trucking businesses. There are several reasons drivers prefer flatbeds over any other truck. Some reasons may be because of the short drive times or because of the pay. Below are some benefits that flatbed Landstar owner-operators have mentioned
Pay
As a flatbed driver, you can make more money over your trucking career than you would driving any other truck. Your salary depends on the company and loads. However, compensation is much higher because flatbed driving is in high demand.
Job Demand
In the trucking industry, there has been a lot of talk about the driver shortage. This shortage puts flatbed drivers in higher demand than ever before. If you can pull a variety of freight, flatbed trucking will always be in demand.
Time Home
With Landstar, you can spend more time at home with loved ones when driving a flatbed truck. Not only with Landstar do you get to choose your own loads, so you can pick and choose when to go home, but since the loading process is not as extensive, drivers can quickly load and unload to reduce their time with each load.
Tips for Flatbed Owner Operators
When hauling a flatbed truck, some risks come with the job. Knowing and understanding these risks and learning helpful tips can make your time out on the road safer and help protect yourself, your load, and your truck.
Create Load Securement Strategies
As a flatbed driver, knowing how to secure the load properly ensures nothing moves or becomes damaged during transit. Also, drivers need to check all load securements to ensure they are properly working. Having a damaged strap, latch, tarp, or knot could result in the cargo becoming damaged or, worse, causing harm to others on the road.
Use Caution When Hauling Dangerous Freight
It is no secret that flatbed drivers haul heavy equipment that can be deemed dangerous. All it takes is you slamming on your brakes or someone cutting you off to put your life and others at risk. Use caution when you are hauling dangerous freight by paying attention to all activity ahead and behind you. This can help reduce the risk of damaged freight or someone becoming seriously hurt while on the road.
Don't Make Yourself a Target of Theft
When driving any truck, drivers need to be aware of their surroundings. It is especially so when driving a flatbed truck. While you are sleeping at a rest stop or stopping to take a break, drivers take the risk of someone coming up and taking something off their trailer. There is also the risk of another individual unlatching their trailer, which can result in a dangerous accident.
Take Caution when Running Empty
After you have fully unloaded your shipment, flatbed drivers need to be extra cautious when running empty. If you are not weighed down with cargo, your trailer can jackknife and lose control when you need to stop suddenly or when driving on impaired roads such as ice or rain.
Flatbed trucking has some risks, but it also has some benefits, and with a job being in high demand, owner-operators can run a successful trucking business. While the pay and having the opportunity to be at home with friends and loved ones can be high benefits, owner-operators need to understand the risks and take the appropriate steps to stay safe while out on the road. Once you decide to become a flatbed owner-operator, you will realize how high in demand your career is. You will never have to worry about finding loads while using Landstar's Load Board. If you are ready to further your career, lease on with Landstar today as a flatbed owner-operator.