Now that winter is behind us, now is a great time to inspect your tie-down straps for any wear or tear. It is important to inspect these tie-down devices and clean them regularly when not in use. It will keep your devices working for a long time, but it helps keep your load safe. Getting caught with defective tie-down devices can result in CSA points or violations. Some tie-down defects can end you in an out-of-service violation.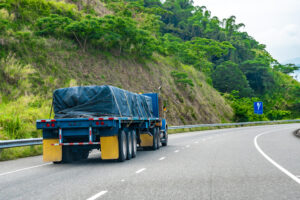 What Does Enforcement Look For?
Commercial vehicle inspectors have a list of violations when looking at cargo tie-downs. The most common violation is – "failure to prevent shifting cargo." This violation covers many different things. You did not take the proper steps to secure your cargo, or a securement device has failed to meet the required standards or is even damaged. Commercial vehicle inspectors' issue about 2,500 – 3,000 tickets for not meeting the required tie-down requirements (49 CFR 393.110). Another common violation is a damaged securement system. Every year, approximately 12,000 – 15,000 violations are writing for 49 CFR 393.104(b). Depending on the damage, having broken tie-down devices can be downgraded to a low WLL. This means receiving a violation for using damaged devices or not meeting the tie-down requirements. However, whether you receive a violation is up to the inspector.
Below are some tips on inspecting your tie-down devices to avoid any violations.
Tie Down Inspection Tips
Since tie-downs and other securement devices can become damaged over time and less effective because of weather, wear and tear and the stress of holding heavy loads, it is important to inspect your devices to ensure they are in proper working condition. Check for the following:
Knots, tears, or holes
Broken stitches in patterns
Weld splatter, melting or charring
Damage from ultraviolet rays (bleached or stiffness)
Tiny particles found in the webbing
Areas with burning because of chemicals
Corrosion, pits, or cracks on hooks, ratches, cam buckles, or fittings
Worn patterns
How to Clean Tie-Down Straps
Keeping your tie-downs clean can help extend their life and condition. To clean your tie-down straps, you can follow this process:
Use a mild detergent mixed with warm water
Scrub the straps to get any dirt or debris loosened up
Do not use any cleaners that contain bleach or acid additives
Once washed, straps can be hung dry if the polyester fabric is made to restrict water absorption.
How to Store Tie-Down Straps
Your tie-down straps can be hung up or put on plastic bags when you are not using them. However, the best way to store your straps is to put them in a dry area out of direct sunlight. Here are some tips on storing your tie-down straps.
When not using your straps, they should be clean and dry before storing them for any long periods.
Before storing, wind up the straps. While wrapping up the straps, you can inspect them for any rips, tears, or abrasions in the webbing.
Straps should be kept away from any moisture as this can cause corrosion.
There are some things you can purchase to help store your straps properly.
Bungee balls – this helps you to tie and wrap your straps. But, they have to be bought in bulk, usually of 100.
Bungee cords – these come in multiple sizes and can fit large straps
Cinch straps – this can be used for securing loose webbings
All tie-down straps need to be properly maintained. No matter what you are using your tie-down devices for – it is best to keep them in good working order.