Since COIVD, a lot of gatherings have shut down. In 2020, the truck show season, to say the least, was nonexistent. When Mid-America Trucking Show decided to cancel in 2020, many of the other events followed shortly behind.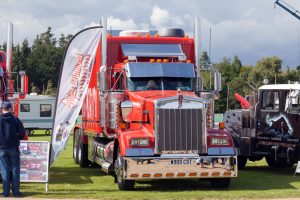 While Mid-America Trucking Show decided to cancel once again in 2021 and instead hold its 50th anniversary in 2022 (March 24th – March 26th), many other trucking shows are on the books in the coming months. There are even new truck shows hitting the calendar this year. One of the new truck shows is SHE Trucking Expo, which is now Sept 17th – Sept 19th, located at the Chattanooga Convention Center in Chattanooga, Tennessee. With this truck show, visitors can enjoy some vendors and educational programs and attend a black-tie dinner and cruise on the Southern Belle.
Upcoming Truck Shows and Events for 2021
While new truck shows have hit the calendars, a few still have decided to cancel. Over the next two months, come out and enjoy these truck shows across the United States.
September 16th – 18th: Richard Crane Memorial Truck Show, St. Ignace, Michigan
September 17th – 18th: Busted Knuckle Annual Truck Show, Tonkawa, Oklahoma
September 17th – 19th: SHE Trucking Expo, Chattanooga, Tennessee
September 23rd – 25th: Guilty by Association Truck Show, Joplin, Missouri
September 25th – 28th: Truckload Carriers Association Annual Convention, Las Vegas, Nevada
September 29th – October 2nd: That's a Big 10-4 on D.C., Washington, D.C.
October 1st: Mack Days at Gerhart Machinery Company, Lititz, Pennsylvania
October 22nd – 23rd: Keystone Truckin' Nationals, Maple Grove Raceway in Mohnton, Pennsylvania
Since COVID is still spreading rapidly, be sure to check with these truck shows before attending to ensure they are still being held and any mask or social distancing requirements are in place.