As an owner/operator any situation that costs you time is also costing money. However, there are just some that cannot be avoided.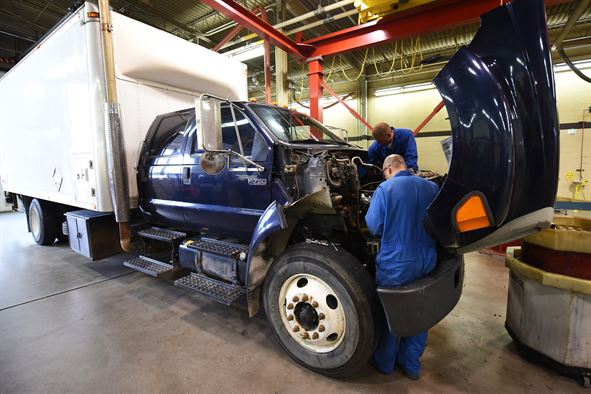 An inspection by the Department of Transportation is one that is unavoidable. Any vehicle on the interstate that weighs more than 10,000 lbs is subject to Federal Motor Carrier Safety Regulations (FMCSR). Those solely operating intrastate are subject to state regulations.
While being prepared for a yearly inspection is manageable, a surprise inspection can and will occur from time to time. There are several reasons for random DOT inspections. Safety is the main concern but occasionally a truck may be suspected of trafficking contraband. It is important to remember that these are problems and the inspection is nothing personal. Cooperation by both parties can ensure that the process goes smoothly and quickly. You can make this happen by being prepared and formulating a DOT inspection checklist that will help expedite the process. The following are a few items to consider when compiling a list of possible violations to check over.
Preparing for DOT Inspection
When preparing for a DOT Inspection, drivers can learn how it could be dangerous driving a vehicle that is not running properly and how to notice these defects before inspection. A recommended solution would be to perform a walk-around the vehicle before and after each trip. This can include:
Checking tires
It can be uncommon for tires to blow out, however the tire can deflate slowly. Before driving the vehicle, the air pressure in the tire should be checked with a tire pressure gauge. Also, drivers should be aware of the rules and regulations for the state regarding mud flaps. Some states have certain requirements for mud flaps (splashguards). These are used to prevent the vehicle from spraying debris from the tires and hitting other driver's windshields.
Testing lights
Lights, bulbs and electric signals that are not working properly can be a safety hazard to not only the driver, but others traveling on the same road. Be sure the brake lights, high beams, headlights and low beams are all working properly before driving the vehicle.
Checking windows
Ensuring there are no cracks (even small chips) in the windshield or windows is suggested. If these issues are not addressed in a timely manner, they can become worse causing the driver to not see while driving. Be sure to check all windows before traveling.
To make sure that all drivers are passing inspections without any issues, it is important that drivers know what the inspection standards are and how to take steps on maintaining a safe commercial motor vehicle.
DOT Checklist
North America Standard Inspection – Level 1:
During this inspection, the DOT inspector will look at the driver's information as well as ensure there are no drugs, alcohol or hazardous material being transported. This can also include:
Daily log and driving hours
Drivers licence
Medical card and waiver
Driver and vehicle inspection report
While checking the vehicle the DOT inspector will also look at the following parts:
Headlamps
Frame
Fuel System
Emergency Exits
Electrical Cables
Engine and battery compartments
Exhaust system
Brake lamps
Coupling devices
Seat belts
Brakes
Safe loading
Lamps on projecting loads
Steering mechanism
Stop Lamps
Suspension
Cargo securement
Tires
Tail Lamps
Wheels, hubcaps and rims
Turn Signals
Windshield Wipers
Driver and Vehicle Inspection: Level 2
The level 2 inspection is similar to the level 1 inspection; however, the DOT Inspector may not check any parts that require them to go under the vehicle.
Driver Inspection: Level 3
During the level 3 inspection, the inspector will look at the following:
Medical cards
Drivers licence
Seat belts
Drivers daily log book
Incident history
Driver and vehicle Inspection Report
Hazmat requirements
Special Inspection: Level 4
The level 4 special inspection is considered a one-time inspection done to a certain part of the vehicle. This is normally conducted to discredit a previous claim regarding the vehicle.
Vehicle Inspection: Level 5
A level 5 inspection can be done at any location, and will include everything inspected in level 1. This inspection can be done without the driver being present.
Enhanced NAS Inspection for Radioactive Shipments: Level 6
DOT regulations took effect January 1, 2005 and all commercial motor vehicle that is shipping Highway Route Controlled Quantities (HRCQ) of radioactive materials are obligated to pass the level 6 North America Standard Inspection. The level 6 inspection includes:
Inspecting procedures
Improvements within Level 1 inspection
Radiological requirements
Inspecting Radioactive shipments
Improved out of service standards
Areas that include any electrical wiring, hydraulic lines, air hoses, and lights will also be inspected to ensure that everything is in proper working order. Drivers should be aware if any of these items are worn out or faulty should be fixed to avoid violations. Log books will be checked; these include driving hours and/or total number of miles driven, contents carried and/or name of carrier, name of co-driver if available. Structural integrity will also be checked, especially tires, rims, and any load supporting restraints. Regulations can vary from state to state. So before crossing stateliness ensure you are up-to-date on each state regulations, as it is your CDL that could be affected.
Transportation logistics provider and freight dispatching company Landstar encourages all owner/operators to develop a DOT inspection checklist. This can safeguard you against any possible safety violations and assist in moving along the inspection process quicker. Just remember, the main concern is to keep America's highways safe.