While summer holiday weekends are supposed to be a fun-filled time, often it brings on safety concerns while on the highways. For truck drivers, it can be a stressful time with the added traffic mixed with the possibility of missing the holiday festivities.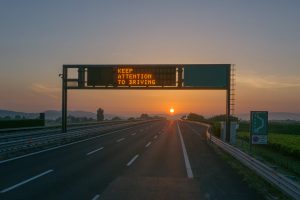 According to AAA forecasts, nearly 43 million Americans start their summers with a Memorial Day weekend getaway and is the second-highest travel time on record since AAA began tracking the statistics in 2000. 37.6 of the travelers will be automobiles. The rest of the commuters are by trains, planes, buses and cruise ships.
These tips can help you stay cool, calm, collected, and safe this Memorial Day weekend.
Truck drivers should anticipate delays from Wednesday that will continue through Memorial Day. The best advice is if you can avoid morning and evening travel and plan routes ahead of time.
Don't forget to buckle up. While this will not prevent a collision, but seat belts can help save lives.
We know we have deadlines to make, but slow down and arrive safely. Chances of a crash triple when driving speeds increase by slowing down the brake and stopping time.
Watch for impaired drivers. If you notice an impaired driver, call 911 immediately.
Keep your eyes on the road. Leave technology alone while driving.
Watch your blind spots – many automobiles do not realize where your blind spots are.
Minimize lane changes. The less you have to change lanes, the less chance of an accident.
Tips for Long Hours in the Truck over the Memorial Day Holiday
Remember to use protection for not only your skin but also your eyes. Sunglasses and sunscreen protect you from the sun glare beating through the windows. Sunglasses can also help prevent sun blinding that can cause accidents.
Remember to exercise on your fuel stops or any stop that you can safely make. Exercise will help keep your tension and stress to a minimum.
Stay hydrated – Regardless of being in a climate-controlled truck, dehydration can still set in. Keep fluids handy and aim to consume eight glasses a day.
Make sure to comply with driver hours or service. For many of us, the goal is to get home or to our destination as quickly as possible. Do not exceed the 11 hours of driving in a 24-hour period. Get regular sleep and nutrition.
If you are not able to get home, take this time to de-stress by watching movies, sightseeing, and even getting some much-needed rest. If you choose to sightsee, many times festivities are going on that you can enjoy. Look for a great bbq and eat up!
Most importantly, keep calm. Do not let the driving habits of others impair your driving ability.
Have a safe and happy summer holiday!