LandstarOne Mobile App – One Stop Shop for all Owner-Operator Business Needs
Landstar stands behind their owner-operators success. Not only do owner-operators have full access to the Landstar Load Board that helps them find and book loads, but the Landstar Maximizer provides opportunities to maximize revenue. Now, Landstar has released the new LandstarOne Mobile App.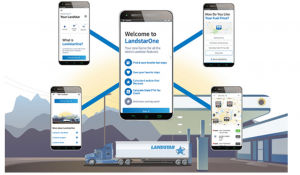 LandstarOne
Rocco Davanzon, the vice president of capacity development with Landstar Transportation Logistics, speaks about the LandstarOne app. He states, "LandstarOne makes it even easier for BCOs to save money on fuel and gives them direct access to the Landstar apps they rely on to run their businesses more efficiently and effectively."
LandstarOne was designed as a portal to hold all of Landstar's mobile apps in one place.
LandstarOne gives owner-operators access to:
• Find Net Discount Fuel Prices including Landstar Discount and State IFTA Tax Credits
• Use Google Maps and find the most efficient route for fuel stops
• Filter through preferred fuel stations
• Quickly save specific fuel stations
• Call fuel stations from the app
• Landstar's available loads and the Landstar Maximizer app
• LCAPP Fuel Savings – find the the best prices everywhere
The LandstarOne app is not done growing. Within the next few months, users will be able to access the following on the LandstarOne mobile app:
• Landstar news and information
• More tools to successfully run your business
Downloading and Accessing LandstarOne
LandstarOne is available for all iOS and Android devices. To obtain the app, go to the App Store or Google Play. Search for LandstarOne and download the app to your device. Once the app has successfully downloaded, you can log in using your LandstarOnline.com username and password.
Download iOS app here
Download Android app here