Most of us did not think we would see diesel prices less than five dollars a gallon. Over the last eight weeks, gas prices have dropped almost 9 cents per gallon, according to released data by Energy Information Administration on Aug. 15th, 2022. But what does this mean for owner-operators and the future of fuel prices?
Oil prices are about $90 a barrel right now. We have seen prices drop after the surge with the Russian invasion of Ukraine in the spring and the cut in Chinese interest rates. What does this mean for the future?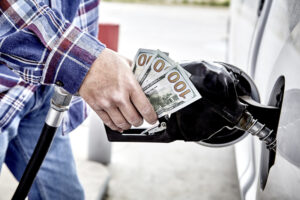 President Joe Biden has ordered the release of millions of barrels from the Strategic Petroleum Reserve. This may be partially why the national average diesel prices have hit an all-time low since March 2022, while it is still at an all-time high of almost $1.50 more than in August 2021.
The hope would be to see a trickling effect of lower food costs, utility decreases, and overall travel costs lowered. However, just as quickly as prices fall, they can rise again. We shouldn't be prepared for the costs of fuel to stay.
Because in November 2022, the withdrawals of oil from the U.S. Strategic Petroleum Reserve will end and need to be refilled, all it would take is one unexpected event to start this vicious cycle — meaning oil prices skyrocketing again.
According to US Energy Information Administration, you can see how the prices are panning out.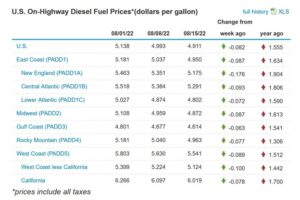 Here is how they break down what we pay for.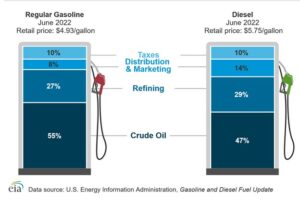 .
Since most of the fate of fuel prices is out of our hands, we must find ways to ride the waves.
Here are a few ways to help you at the pump.
Ways to Reduce Fuel Costs Naturally
Whether you operate a fleet of diesel trucks or you're a one-man/woman show, finding ways to offset fuel costs can feel like banging your head on a brick wall right now. The price of fuel is straining us all. But you can do a few things to help offset and even lower fuel costs and save a little money.
Reduce idling –This may seem like a no-brainer, but warmups increase fuel usage. Try to avoid idling when you can. 
Install a block heater controller – In the winter, use a block heater to cut back on heating costs. 5rt6yhu
Maintain speed limits and use cruise control–Maintain your speed to reduce fuel economy.
Accelerate and brake smoothly– Did you realize that starting and stopping affects fuel consumption?
Know your MPGs– Knowing the number of miles you get per gallon can help you track how much you're spending on fuel and then make savings accordingly.
Proper air amount in tires– Under-inflated tires use more fuel. Regularly checking your tires will prolong the life of your tires and improve fuel efficiency.
Window/AC – When traveling at lower speeds, like through heavy traffic, turn off the air and roll down the windows. It costs more fuel to run the AC.
Wheel alignment – improperly balanced tires can increase fuel consumption.
Engine oils – Use lower-viscosity engine oils.
Purchasing fuel wisely – Shop at the best truck stops with fuel-surcharge programs and discounts and join buying programs.
Apps That Help Find the Best Fuel Stop in Your Area
Most truck stops have their own apps that give you store locations, fuel prices, and discount programs, and other apps have various ways to search for services and other features. Whether you have an Apple or Android device, it is easy to find the best fuel prices, discount programs, and other perks to help you save money.
Trucker Path
The Trucker Path Maps app features independent, chain truck stops providing fuel prices for many of the 6,000+ locations. You can use the map to find parking availability, fuel prices, nearby fuel locations, and directions to the store. 
Download the app on Apple or Google Play
DAT Trucker
DAT Solutions' DAT Trucker app lets you view fueling locations on a map or list. Tapping DAT's logo on the map allows you to select a service, such as fuel stops, hotels, weigh stations, etc. You can find fuel stops, weigh stations, hotels, and the distance from your current location by interstate within 100 miles.
Download the app on Apple or Google Play
Road Hunter
The Road Hunter app is more for those who need help with route planning. The wonderful thing about this app is that it allows you to search for nearby fuel locations, including major and independent truck stops. You can also find current location weather reports and low bridge locations.
Download the app on Apple or Google Play
Jack Reports
Like many other trucking apps, Jack Reports is your one-stop shop for trucking maps app to locate major truck stop chains, diesel prices, parking availability, weigh station locations, mobile inspection locations, and more. You can customize the app to show what services appear. This app is interactive, where drivers can leave reviews of truck stops to help others look for a place to stop.
Download the app on Apple or Google Play
Fuelbook
With the Fuelbook app, you can customize the destination of your route to show fueling locations and sort by truck stop chains. You can then sort by price, distance, and fuel prices before the IFTA tax. Fuel prices are updated multiple times a day on the map view.
Download the app on Apple or Google Play
Lease on with a Great Company
While many of the items listed above seem to be short-term solutions to a long-term problem, the best way to take your finances into your own hands is to make sure you are leased on to a great company and one that keeps your best interests in the heart.
Landstar is 100% non-forced dispatch. You control your income and when you ride. Landstar offers many great perks besides great pay.
Owner-operators receive volume discounts on fuel, tires, parts, and service through the LCAPP program. The LCAPP program also offers a variety of discounts and cash rebates on new and used trucks, plus factory direct pricing on trailers.
You can get started in just three easy steps. Contact a recruiter today.