Mark your calendar! The time is quickly approaching. Commercial Vehicle Safety Alliance's International Road check is June 6 – 8 this year. 2017 marks the 30th year anniversary of this road check.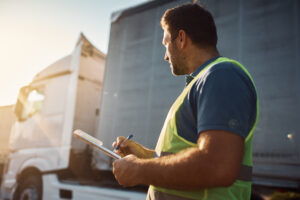 CVSA inspectors will conduct inspections of commercial motor vehicles and drivers over a 72-hr. period. Cargo securement is this year's focus on top-of-regulation inspections.
What to Expect During Inspection
Level I inspections is a 37-step procedure that inspects drivers for valid CDL licenses, shipping documents, hours of service logs, motor carrier registration, checking for seatbelt usage, and if the driver is under the influence of alcohol and/or drugs. During this time, the inspectors will also check:
brake systems
cargo securement
coupling devices
driveline/driveshaft
exhaust systems
frames
fuel systems
lighting devices (required lamps)
steering mechanisms
suspensions
tires
van and open-top trailer bodies
wheels
rims and hubs
windshield wipers
emergency exits (on buses)
Five Top Load Securement Violations
Damaged tie downs
Insufficient tie downs
Loose tie downs
Failure to prevent shifting/loss of load
Failure to secure truck equipment, including tarps, dunnage, doors, tailgates, and spare tires
Remember to check cargo and ensure it is secured and immobilized on or within the vehicle. Remember that regulations that apply to items carried for delivery; those same rules apply to anything else in or on the truck. Everything from winches to shovels and blocks must be secured.
Also, remember to check all tie-downs for wear and tear. If you are not sure what is considered damaged tie-downs, the CVSA's North American Standard Out-of-Service Criteria offers a defect table that outlines regulations for:
chain
wire rope
cordage
synthetic webbing
steel strapping
fittings or attachments
anchor points
On average, over 17 trucks and buses every minute are inspected during the largest inspection enforcement on commercial motor vehicles in a 72-hour period. Over 1.5 million roadside inspections have been conducted since its conception with participation from the U.S. Federal Motor Carrier Safety Administration, the Canadian Council of Motor Transport Administrators, the Secretariat of Communications and Transportation (Mexico), and Transport Canada.