March is not just known as spring showers, but instead as Women's History Month. In March, we celebrate the strong women who have carved the way for many other women in the trucking industry. Women make up a significant number of our drivers.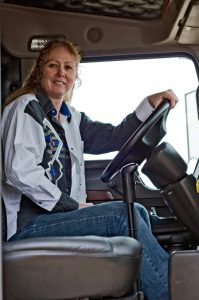 Below we will share the importance of women truck drivers and the history of women in the trucking industry who has made an impact in the industry as we know it today.
Why Women Are Important to the Future of Trucking
Trucking is important and high in demand career choice. While the shortage of drivers will be one of the biggest encounters we will have, the importance of drivers remains. According to a 2019 report from the American Trucking Association (ATA), the trucking industry saw a shortage of about 60,000 drivers in 2018. That is approximately a 20% increase from the prior year of 50,000. According to ATA, if we keep the same momentum, we can see a shortage of 160,000 by 2028. The trucking industry will need to hire about 1.1 million new drivers by the next decade to see industry growth. That is approximately 110,000 drivers a year.
The ATA also states that replacing drivers who are ready to retire will be over half of the new drivers – about 54%.
To stop the shortage and accommodate industry growth, the trucking industry will need to hire roughly 1.1 million new drivers over the next decade — an average of nearly 110,000 per year. To see growth, the industry needs to see more woman drivers ready to begin a trucking industry career. As of now, women drivers make up about 7% of all drivers today.
While trucking can pose a risk, there are also opportunities to succeed and make a successful career out of trucking. When leasing with the right carrier, you can be successful as an owner-operator and run your own business.
Why Begin a Career in the Trucking Industry?
There are many benefits to becoming an owner-operator. One benefit that many drivers speak of is having your own independence and being able to travel. When you are an owner-operator with a non-forced dispatch company, you can have a flexible schedule and make your own hours.
While the trucking industry is not for everyone, women need to do their research and explore what is best for their life and career. We are looking for more women drivers and women to help grow the trucking industry. There is a high demand for female drivers. Women have the opportunity just as any other driver to advance and be a part of the 30% of women changing the trucking industry for the better.
There are many trucking groups and networks for women to reach out to and build unity in what seems like a male-ran industry. Some women groups include Women in Trucking Association, Real Women in Trucking, and S.H.E. Trucking.
Women Who Have Shaped the Trucking Industry
While driving a truck is often thought to be a "man's" career, many women have stepped up and played an important role in this industry. Below are some women who have shaped the trucking industry in the United States and made it what it is today:
Alice Huyler Ramsey
Alice was just 22 years old when she because the first woman to drive coast-to-coast in 1909. Alice Ramsey went on and founded the Women's Motoring Club.
Luella Bates
Luella Bates began working for the Four Wheel Drive Auto Company in 1918 as a test driver during World War I. Luella drove the Model B truck and continued after the war as a driver and demonstration. In January 1920, Luella Bates was the first woman to get her driver's license in New York. Later that year, the Four Wheel Drive Auto Company sent Luella Bates around the country to show other women that they can drive trucks. Bates was then the poster child for women truck drivers during this era.
Lillie Elizabeth Drennan
In 1929, Lillie Elizabeth Drennan got her Commercial Driver's License (CDL). Later, she decided to start her own trucking company known as Drennan Truck Line. Lillie had a hearing impairment that just about stopped her from getting her license. But she fought her case against "sex bias" and was granted her CDL.
Mazie Lanham
Mazie Lanham was the first woman to drive for UPS in 1943. During this time, Lanham started a trend of hiring women for these jobs because there was such a shortage during World War II. This continued even after the war.
Celebrating Women All Around the World in the Trucking Industry
This is the month to celebrate all women, especially those who work hard every day in trucking, and show our respect for their hard work and evolving the industry.
We are an equal opportunity company, and we would love both men and women to join our 100% non-forced dispatch team.
You can apply today and learn how to further your career in trucking.
Thank you to all the women drivers out there for all your hard work and dedication. We see you, and your dedication does not go unnoticed.