The Federal Motor Carrier Safety Administration and the National Highway Traffic Safety Administration intend to introduce Automatic Emergency Braking (AEB) technology as part of the 2021 infrastructure law for all heavy commercial trucks and vehicles.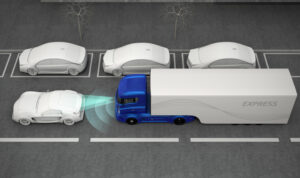 What is AEB?
An Autonomous Emergency Braking (AEB) is a system that helps watch the road and automatically stops the vehicle if the driver fails to. This type of technology was first introduced in 2009 to help lessen car accidents or reduce the seriousness of an accident. It is said that all new class 7 and 8 truck trailers and motor carriers will be required to have the AEB system installed in all motor vehicles equipped with it.
AEB Benefits
In heavy traffic, a rear-end collision often occurs because of the driver not paying attention or driver error. The AEB helps detect the space between the vehicle in front of you and warns you to help avoid a collision and helps with braking. While the AEB can help prevent crashes, the driver must always pay attention to the road and other drivers. Below are some benefits of the AEB.
Improved Safety – for both you and other drivers on the road.
Efficient Driving – drivers can react more quickly to situations causing shorter braking distances.
Have assistance in braking to help avoid collisions.
Lessened risk of injury if an accident does occur.
The AEB is an effective system, and the Insurance Institute for Highway Safety (IIHS) states that the AEB could prevent 50% of front-to-rear accidents, 56% of front-to-rear car accidents with injuries, and 41% of large truck front-to-rear accidents. With this information, the AEB technology could help prevent about one million passenger vehicle accidents and more than 450,000 injuries that occur in these accidents.
In 2018, large trucks were involved in 200,000 accidents, where the front of the truck was the location of the accident. An AEB in large trucks could address as many as 87,000 front-to-rear accidents. An AEB will be required in large trucks that could reduce severe accidents and injuries.