Every year the Commercial Vehicle Safety Alliance (CVSA) holds an International Roadcheck to help improve commercial motor vehicle safety. This year, the International Roadcheck begins May 4th and continues until May 6th.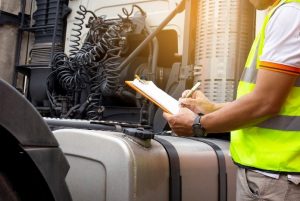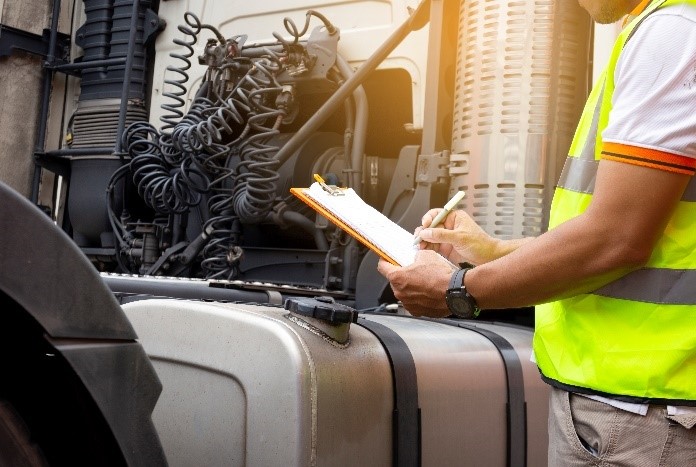 Last year during the annual road check there were 34.7% of drivers were put out of service because of Hours-of-Service (HOS) violations. Inspectors will be checking your HOS, so ensure you are still in compliance with your hours.
However, each year the CVSA focuses mainly on one safety element. Continue reading below to see the focus for 2021 and what you should expect from this inspection.
CVSA International Roadcheck Focus for 2021
During the International Roadcheck inspection, inspectors will be focusing on the North American Standard (NAS) Level I Inspection. This inspection includes 37 steps from the following categories:
Operating requirements
Vehicle mechanical
Some hazardous materials and dangerous goods are also inspected in the Level I Inspection
Depending on some situations, inspectors can also inspect the following:
Level II Inspection, which includes a walk-around of the driver and vehicle.
Level III Inspection, which includes driver, credential, and administrative inspections.
Level IV Inspection is the inspection of the vehicle only.
Along with the NAS Level I Inspection, the CVSA has a special category focus. In 2021 the CVSA Roadcheck focus is lights and hours-of-service (HOS) violations.
Drivers have hours-of-service regulations to limit how long they are to stay out on the road, and this also gives them rest in between shifts. The HOS is set in place to help keep fatigued drivers off the road. Therefore, the driver's HOS logs will be inspected during an inspection stop.
Also, lighting devices such as the following will be inspected:
Headlamps
Tail lamps
Clearance lamps
Identification lamps
License plate lamps
Side marker lamps
Stop lamps
Turn signals
Lamps on projecting loads
All these lights will be inspected for color, operation, mounting, and visibility.
What to Expect During the Inspection?
While the special focus for the 2021 CVSA International Roadcheck includes HOS and lighting devices, drivers should also be prepared for the following inspection from DOT:
Driver preparation, inspector greeting, and interview.
Verification of driver documents
Motor carrier ID
License inspection
Duty status and periodic inspection reports
Certification checks for the following

Medical Examiner's Certificate
Skill Performance Evaluation Certification, and
Daily vehicle inspection report

Seat belt usage, illness, fatigue, impairments from drugs and alcohol
Some of the DOT inspection important sections include:
Brake systems
Cargo securement
Coupling devices
Driveline/driveshaft components
Driver's seat function
Exhaust system
Frames
Fuel system
Lighting devices
Steering mechanisms
Suspension system
Tires
Van and open-top trailer bodies
Wheels, rims, and hubs
Windshield wipers
Emergency exits, electrical cables, and systems in the engine and battery compartments, and temporary aisle seating for buses, motor coaches, and passenger vans.
Are You Prepared?
While the CVSA International Roadcheck only lasts for three days that spread from Canada to Mexico, it is important to remember that DOT inspections happen every day of the year.
According to the FMCSA in 2019, reports show that 3.36 million inspections occurred, with 67,072 (or about 2%) during the International Roadcheck. The data also shows that 944,794 driver violations occurred during this time, with just a little over 20% (194,545) being for out-of-service violations.
By keeping your truck and all records compliant and fully prepared for the inspection each year, you can avoid receiving an out-of-service tag.