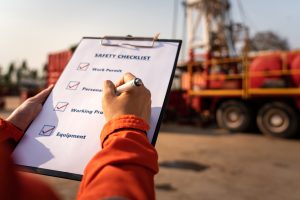 The Commercial Vehicle Safety Alliance (CVSA) has scheduled Brake Safety Week for August 22nd – August 28th. The inspectors will be focusing on brake systems and the components across entire North America. If a vehicle is found to have brake-related issues, that vehicle will be put out of service until the issue is resolved.
Preparing for Brake Safety Week
There is no bargaining when it comes to brake safety. Preparing for the brake safety inspection is important for drivers, fleets, and owner-operators for many different reasons. By being prepared, helps you avoid compliance violations and out-of-service time. It is even more important that your brake system works properly to keep yourself and others on the road safe.
Below is a list of preparation you can take before hitting the road during Brake Safety Week:
Perform daily visual checks and fix or repair loose hanging air chambers, slack adjusters, or pushrods.
Be sure to do weekly checks of the air disc brake rotors for cracks, along with checks drum brakes for any wear or tear.
Monthly checks should be done for moisture in the air system.
It would be best if you regularly greased the S-cam brake tubes and automatic slack adjusters. By doing so, prevents rust and corrosion.
Why Focus on Brake Systems?
The CVSA has chosen to focus on brake systems and the components for the following reasons:
During 2021 Brake Safety Week, 12% of the 43,565 commercial motor vehicles that were inspected had brake-related issues and were placed out-of-service.
According to the Federal Motor Carrier Safety Administration's (FMCSA) Large Truck and Bus Crash Facts, the brake system was the third most cited vehicle-related issue resulting in fatal commercial and passenger vehicle accidents.
The brake system and brake adjustment violations were found to have more violations than any other vehicle violation in any other category. Brake-related violations took 38.6% of the out-of-service violations during 2020's International Roadcheck inspection.
8 out of the top 20 vehicle violations were brake-related in 2020, according to the FMCSA's Motor Carrier Management Information System.
Since the dates for Brake Safety Week have been announced, the CVSA wishes to remind all motor carriers, drivers, and mechanics to be sure to check and service their vehicles when needed. By doing so, helps ensure each vehicle out on the road is safe for all motorists.
Brake Safety Weeks also falls during the same time as Brake Safety Awareness Month (August). So, from now until August 22nd, law enforcement officers will properly educate commercial motor vehicle drivers, mechanics, owner-operators, and other motorists on the importance of brake maintenance, operation, and performance.